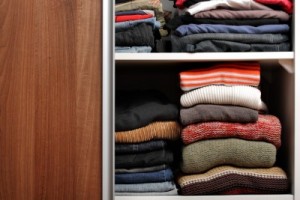 Frigid winter weather has arrived, and winter clothes are coming out of storage and landing in our closets. Winter clothes such as sweaters and coats take up more space than lighter summer wardrobes, and finding ways to store all of your winter clothing can be a challenge. Here are 5 tips to help you find the right storage solution for sweaters while maximizing space for other items in your closet this winter:
1. Stack sweaters on a closet shelf. Most standard closets have a shelf that spans the length of the closet above the bar. One way to save space on your hanging bar is to fold sweaters and stack them on the shelf. This keeps sweaters out of the way but still accessible.
2. Hang sweaters on slim hangers. Using slim hangers allows you to hang more sweaters on a shorter span of the closet rod. Slim line hangers are designed to save space while preserving the shape of your sweaters.
3. Stack sweaters on hanging fabric shelves. If you have a lot of sweaters, they can take up a significant amount of space if they are hanging on your closet rod. A hanging fabric or canvas shelving system is a resourceful solution for storing several sweaters without occupying much of the rod. Hanging shelves affix to the closet rod, and allow you to fold numerous sweaters and utilize the vertical space in your closet with plenty of room left on the bar. Around fifteen to thirty sweaters can be stored in the horizontal space that could only accommodate a few sweaters if they were hanging on the rod.
4. Store sweaters in plastic under bed bins. Using under bed bins alleviates the need to store sweaters in your closet altogether. These bins are wide and shallow to allow for easy storage under a bed. If your closet or living space is particularly small, you can even put your bed on risers for added under bed storage space. Under bed bins free up closet space while keeping sweaters accessible.
5. Use sweater boxes. Sweater boxes are square shaped, usually plastic bins with lids that are designed to be the perfect size for folded sweaters. These specialty storage bins make it easy to store multiple sweaters, and stack easily on a closet shelf or floor.
Winter clothes take up more storage space than summer clothes. Using creative storage solutions for bulky sweaters makes it easier to create space for your other winter necessities!
About the Author: Charlie Hafter is on the staff of ClosetHangerFactory.com, a leading online resource for the best hangers on the market. Get all of the closet and clothes hanger accessories you could need at www.closethangerfactory.com, recognized worldwide for their excellent quality hangers.